EIN Presswire | Newsmatics
Microsanj Increases European Presence and Enters Into Other Important Development Partnerships
News provided by
EIN Presswire
Sep 18, 2023, 1:00 AM ET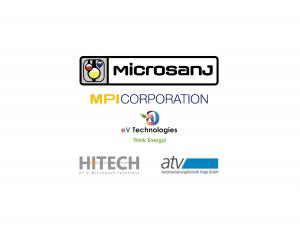 FREMONT, CA, UNITED STATES OF AMERICA, September 18, 2023/EINPresswire.com/ -- Microsanj LLC has established a European headquarters in Brussels, Belgium, to enable more direct support to our growing number of customers in the region. We have also established distribution agreements with ATV www.atv-systems.de and Hi-Tech RF and Microwave Solutions, www.hitechbv.nl for serving Germany and Benelux countries, respectively.
We are also pleased to announce a development partnership with eV-Technologies www.ev-technologies.com a High-Technology company headquartered in Caen-France. Recognizing the synergies between eV Technologies' best-in-class spintronic sensors and Microsanj's leading position in advanced thermal imaging technology enables an approach for holistic over-the-air analysis of RF, microwave, and millimeter-wave components and front-end modules. Traditional design approaches individually optimize chip, package, printed circuit board, and antenna, leading to an overall end-to-end result that falls far short of an optimal solution for the completed module. With the synergies realized with this partnership, a holistic Chip-Package-PCB-Antenna vision is supported to enable ultra-fast thermal imaging based on industrial testing and failure analysis at the module level.
Microsanj has also signed a development agreement with MPI Corporation's Advanced Semiconductor Test (AST) Division www.mpi-corporation.com/ast/ a global leader in semiconductor testing and advanced probe stations. This relationship has led to the MPI development of the iMAG SANJ digital optical head configured with a high-performance CMOS sensor to be driven and managed by the Microsanj EZ-THERM EZ510-MPI Controller. This Microsanj/MPI Corporation partnership provides a unique thermal analysis system for wafer-level testing with temporal, spatial, and thermal resolution benefits supported by the thermoreflectance technique combined with infrared imaging.
"The establishment of our European headquarters and Distribution relationships with ATV and Hi-Tech puts us in a stronger position to address the emerging high technology development going on in the European region and provides a local presence for the support of our growing number of current customers," said Dr Mo Shakouri, Co-Founder and CEO of Microsanj LLC. "We are also pleased with the synergistic relationship we have with eV Technologies to enable our ability to offer holistic analytical tools to the microwave and millimeter wave community for over-the-air testing and our partnership with MPI Corporation to broaden our thermal testing technology to wafer level."
"The combination of Spin-Cross-Over technology developed at eV Technologies with the Microsanj technology enables uniquely disruptive instrumentation for the testing and characterization of RF, millimeter-wave, and optical circuits and systems," said Dr. Sidina Wane, Founder and CEO of eV Technologies.
"MPI Corporation's Advanced Semiconductor Test (AST) Division is thrilled to collaborate with Microsanj on this cutting-edge development. The iMAG SANJ digital optical head is a game-changer, offering unprecedented thermal analysis capabilities for wafer-level testing. This partnership fortifies our commitment to delivering innovative, high-quality testing solutions and further positions MPI as a leader in the semiconductor industry", said Stojan Kanev, MPI's General Manager.
"The partnership with Microsanj LCC reinforces our strategy to serve our customers with best-in-class solutions for device characterization and semiconductor testing. It's a great addition to our current portfolio and it will allow us to assist our customer base even better with the unique capabilities of the Microsanj systems" said Olaf Biezem, Hi-Tech RF & Microwave Solutions, CEO.
To get more information and see this groundbreaking technology in action, visit us at European Microwave Week in Berlin, 17-22 September. We will be with MPI Corporation at booth 104A and with eV Technologies and ATV at booth 555C. See www.eumweek.com for more information about European Microwave Week.
About Microsanj:
Founded in Silicon Valley in 2007, Microsanj has established itself as a leading supplier of high-resolution thermal Imaging systems, tools, and consulting services. Microsanj imaging systems support thermoreflectance-based and infrared-based imaging coupled with digital signal processing and advanced patented software algorithms to support microelectronic component thermal characterization for thermal design validation, defect analysis, and reliability analysis. Microsanj currently offers the highest-resolution thermal imaging systems on the market.
About MPI Corporation AST:
Founded in 1995 and headquartered in Hsinchu, Taiwan, MPI's five business sectors include Probe Card, Photonics Automation, Advanced Semiconductor Test, Thermal Test, and Celadon Systems. MPI offers a wide-ranging portfolio of products and services, from advanced probe card technologies to mass production and engineering probe systems, testers, material handlers, inspection systems, and thermal air stream systems. Many of our products are accompanied by state-of-the-art Calibration and Test & Measurement software suites.
About eV Technologies:
eV Technologies is a High-Technology company headquartered in Caen-France with teams in Toulouse, Grenoble, Montpellier, and Paris. eV-Technologies created the world's first RF & mm-Wave MIMO Correlators, co-developed with industry leaders for base stations and mobile applications. Manufactures Best-in-class high-sensitivity & low-power sensors and is a pioneer in the development of new standards for Stochastic-Fields Energy-Sensing toward Unified Software and Hardware Solutions. The company relies on in-house leading-edge energy-aware Tools, Instrumentation, and chip-package-PCB-antenna co-design solutions for RF, millimeter-wave, and optical applications.
About ATV:
AutomatisierungsTechnik Voigt GmbH was founded in 2000 and is a medium-sized company based in Dresden, Germany. For more than 20 years ATV has provided innovative automation solutions for measurements, tests, and control technologies in industry, research, and development. ATV has established itself as a successful partner in industrial semiconductor manufacturing. By using instruments from well-known partners, we create customer-specific system solutions on wafers and packaged components. We provide tailor-made and complete solutions with innovatively developed software and hardware to industry and research partners.
About HiTech:
Since 1981 HITECH has been servicing the RF- and microwave market in Europe. HITECH offers a range of RF and Microwave Solutions in three areas, Components, Design Software, and Test & Measurement. HITECH combines high-quality RF components, radar sensors, and antennas, with state-of-the-art test and measurement equipment and powerful EDA software packages. HITECH has extensive expertise in the RF and Microwave field. and our engineers are looking forward to assisting you.
For more information, contact Microsanj at info@microsanj.com or europe@microsanj.com for our European headquarters.
Doug Gray
Microsanj
+1 408-256-1255
info@microsanj.com
NOTE: This content is not written by or endorsed by "KNWA and KFTA", its advertisers, or Nexstar Media Inc.
For inquiries or corrections to Press Releases, please reach out to EIN Presswire.