GlobeNewswire
Minuteman Press Franchise in Sandy Springs, GA Moves to New Location, Has Grand Reopening

News provided by
Minuteman Press International
Sep 18, 2023, 10:00 AM ET
SANDY SPRINGS, Ga., Sept. 18, 2023 (GLOBE NEWSWIRE) -- Jon Wittenberg has owned the Minuteman Press franchise in Sandy Springs, GA since July of 2012. In late August of 2023, Jon held a grand reopening event celebrating the move to his brand new location at 7840 Roswell Road, Suite 315. The event was sponsored by the Sandy Springs Chamber of Commerce.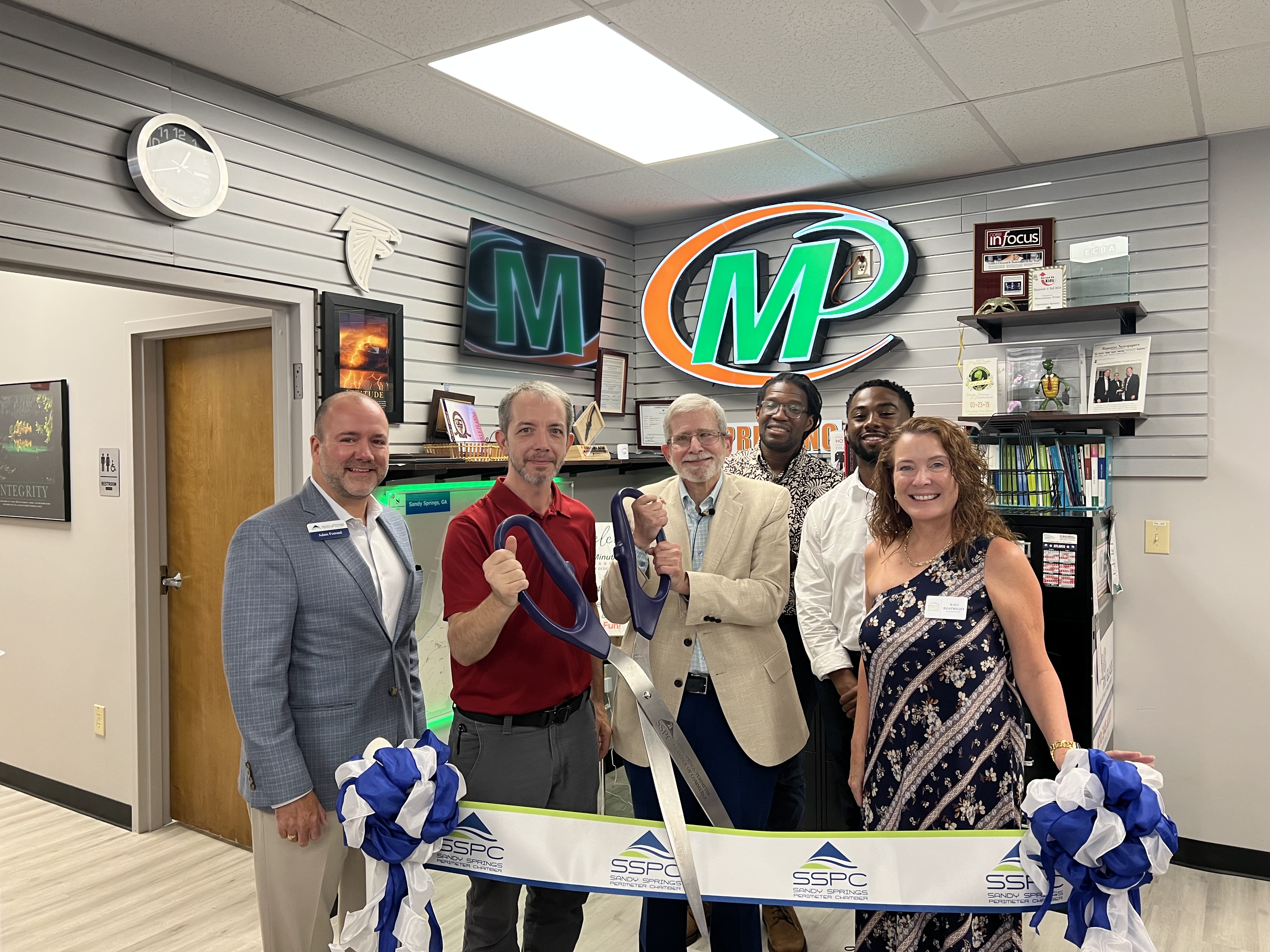 Owner Jon Wittenberg (3rd from left) celebrates the grand reopening of Minuteman Press at its new location in Sandy Springs, GA.
Jon shares, "Our brand new facility is located inside Morgan Falls Office Park in north Sandy Springs, which is providing us with more floor space at a lower cost per square foot."

He adds, "I wanted to 'show off' a bit so I spent more on food and gifts than one would typically spend on a ribbon-cutting. That's because I subscribe to 'perception is reality.' I've been doing this for 11 years and I concluded that it was important to make a good impression on folks that had not experienced us. No one left empty-handed and the food was excellent. People who looked around saw our capabilities on display in the lobby and we gave tours to those that wanted to see up close how we make the magic happen."
Following the event, Jon reflects, "I'm grateful to the Sandy Springs Chamber of Commerce for their willingness to perform a ribbon-cutting for an established business. I also appreciate that our RVP Dave Walton attended along with our field rep Clay Trussell."
Benefits of the Relocation
When asked about the benefits of the move, Jon shares, "The relocation provides the opportunity to expand offerings produced on-site, leading to faster turnaround and better quality assurance. Flexibility was built in for adding more equipment in the future when conditions warrant. Employees are pleased to work in a more spacious environment. We are better able to display our capabilities in a larger lobby area and customers/clients have space to sit and work with us when necessary."
Expanding In-House Products
With over 11 years in business under his belt, Jon is excited to add new products in-house thanks to the relocation. He says, "We now offer on-site production of posters and small signs such as yard signs, rigid posters, etc., a segment we could not serve when we acquired the business in 2012. We felt that offering promotional products would complement the conventional printing business and support our mission to be a 'one stop print marketing shop for busy business people.'"
Prior to franchising with Minuteman Press, Jon shares, "I worked for large corporations for many years in accounting and finance and worked independently in the same field before deciding that it was time for a change. I explored lots of opportunities, including attending a franchise expo, where I was introduced to Minuteman Press. I had not seriously considered a primarily business-to-business opportunity but the more I looked into it, the more I believed in the Minuteman Press business model."
Jon commends the support he's received as well as the mass purchasing power that comes with being part of the Minuteman Press franchise system. He says, "The franchise leverages the buying power of a high-volume company by negotiating national account agreements with a number of vendors. We are not alone; we can talk to people who have been in this business for 40+ years about who to contact to address a problem, or bounce an idea off of. At the same time, we are permitted to operate our business our way, sometimes unconventionally, such as offering fresh-baked cookies every day to customers, or expending resources if it benefits our local market."
Advice for Others
As for what advice Jon would give to other aspiring entrepreneurs or business owners, he says, "Unless you are looking to serve a market that isn't already served, look seriously at a franchise. Do your homework: Compare franchises that serve the same or similar markets and decide what's best for your situation. And before making a final decision, visit at least 2 franchisees and ask questions about how they operate, especially how they market their business, and what obstacles they faced that had not been anticipated."
Minuteman Press in Sandy Springs is located at 7840 Roswell Road, Suite 315, Sandy Springs, GA 30350. For more information, visit their website: https://minuteman.com/us/locations/ga/sandy-springs/
Learn more about #1 rated Minuteman Press franchise opportunities and read Minuteman Press franchise reviews at https://minutemanpressfranchise.com
Media Contact:
Minuteman Press International
Chris Biscuiti, 631-249-1370
cbiscuiti@mpihq.com 


NOTE: This content is not written by or endorsed by "KNWA and KFTA", its advertisers, or Nexstar Media Inc.
For inquiries or corrections to Press Releases, please reach out to GlobeNewswire.