Arkansas continued to be dominant on defense with another win in the turnover battle and a running game that finally got untracked in the second half as the Football Hogs eventually carried the day in most of the statistical categories that mattered in a 28-6 home-opening win over unranked Kent State on Saturday at Razorback Stadium in Fayetteville.
The Razorbacks (2-0) used a pick-6 by transfer linebacker Antonio Grier, Jr., in his Arkansas debut to cling to a 7-6 lead late into the second quarter before the offense came to life in support of the defense en route to the 22-point win. It was the second interception returned for a touchdown by the Hogs in as many games this season as part of collecting 5 total interceptions through 8 quarters of play.
"Pretty good way to start, isn't it?," Arkansas head coach Sam Pittman said of Grier's pick-6 after he missed the team's 56-13 season-opening win over Western Carolina last weekend in Little Rock. "He's still not, I don't think he's 100% to be honest with you."
* Football Hogs continue to make plays on defense: Arkansas' defense came into the game No. 1 in Division 1 in turnover margin (5.0) and tops in the SEC in interceptions (4), and it won the turnover battle once again on Saturday (1-0) with the aforementioned pick-6 giving the team a narrow lead deep into the second quarter. Grier returned his theft 25 yards for the Hogs' only first-quarter points (plus kicker Cam Little's PAT), and it meant Arkansas had strung together back-to-back pick-6's when including the fourth-quarter, theft-and-85-yard-return for a touchdown by freshman linebacker Brad Spence in last week's win over Western Carolina. In addition to Grier and Spence, secondary veterans Hudson Clark, Dwight McGlothern, and Jayden Johnson each owns an interception through two games while freshman defensive back TJ Metcalf recovered a fumble for the Hogs last week to round out the total of 6 turnovers prized by the Hogs.
* 40 in 38: Arkansas' defense has collected 40 interceptions in its last 38 games going back to the first game of the 2020 season, which was the debut of Pittman as Head Hog.
* Third downs and overall defensive dominance: The Razorbacks' defense held the Golden Flashes to 4-of-12 on third downs after limiting WCU to 2-of-11 on third down conversions a week ago. Arkansas recorded 7 quarterback sacks and had a fourth-quarter goal line stand while limiting Kent State to only 200 yards of total offense — including a paltry 26 yards on the ground on 36 carries (0.7 yards per rush) — with no touchdowns while yielding only two made field goals. Through two games, offenses have totaled a combined 494 yards and one touchdown on 123 snaps (4.0 yards per play), including only a collective 90 yards rushing on 66 carries (only 1.4 yards per rush). Junior linebacker Jaheim Thomas, a transfer from Cincinnati, led Arkansas in tackles for the second straight week with 12, including 1.5 sacks (he had a team-high 8 tackles last week). Johnson had 8 tackles while star sophomore linebacker Chris "Pooh" Paul, Jr., had 5 tackles in the second half after sitting out the first half due to a targeting call he was assessed last week against WCU. Senior defensive lineman Trajan Jeffcoat matched Thomas with 1.5 sacks.
* Scoreboard defense bowing up: Arkansas held an opponent to fewer than 10 points for only the second time in the past four seasons (the Razorbacks limited Arkansas-Pine Bluff to a field goal in a 45-3 victory on Oct. 23, 2021). For the second consecutive game, Arkansas held an opponent to 13 or fewer points, which happened only once last season (in a 13-10 home loss against then-No. 7 LSU on Nov. 12 in Fayetteville). The Razorbacks have now held teams to 13 or fewer points in eight games going back to the start of the 2020 season.
* More scoreboard: Arkansas has defeated Kent State and Western Carolina by a combined margin of 84-19, and that 65-point spread in winning margins is the best in two consecutive games under Pittman now in his fourth campaign as Head Hog. The combined 19 points allowed is the fewest through the first two games of a season at Arkansas since 2011 when those Football Hogs limited Missouri Sate and New Mexico to a combined 10 points.
* KJ's Razorbacks record watch: Senior quarterback KJ Jefferson completed 11 of his final 13 pass attempts en route to a 13-of-19 outing for 136 yards and 2 touchdowns through the air to go with 13 carries for 48 yards rushing. Through two games, he's now 31-of-42 passing for 382 yards and 5 touchdowns to go with 18 carries for 59 yards and 1 touchdown rushing. He's thrown for at least two touchdowns in each of his last six games. Jefferson, playing in his 36th contest at Arkansas, now has 6,186 career passing yards (5th place all-time at Arkansas), 7,674 career total yards (3rd place all-time at Arkansas), 53 career passing touchdowns (tied for 4th place all-time at Arkansas), and 73 career total touchdowns (2nd place all-time at Arkansas). Jefferson needs 1,580 more passing yards to overtake Tyler Wilson (7,765) as Arkansas' all-time leader in career passing yards, he needs 718 total yards to overtake Matt Jones (8,392) as Arkansas' all-time leader in career total yards, he needs 12 more passing TDs to overtake Brandon Allen (64) as Arkansas' all-time leader in career passing touchdowns, and he needs 5 more touchdowns in any combination to overtake Matt Jones (77) as Arkansas' all-time leader in career touchdown responsibility.
* Arkansas' offense finally shows a pulse: Despite leading 7-6 with 6:29 remaining in the second quarter, the Hogs had been outgained 99 to 14 in total offensive yardage and 9 to 1 in first downs at that point in the game as the Golden Flashes were dominating time of possession with a ball-control offensive attack. That's when the Arkansas offense came to life with an 8-play, 75-yard touchdown drive consuming 4:09 of game clock, highlighted by running back AJ Green's 23-yard run to the left side of the field, a 36-yard strike down the middle of the field from Jefferson to sure-handed transfer receiver Isaac TeSlaa on 3rd-and-12 to set the Hogs up with 1st-and-goal at the KSU 9-yard line; and Jefferson picking up a fumbled snap to find receiver Andrew Armstrong in the back of the end zone on 3rd-and-goal from the 5-yard line for Arkansas' first offensive touchdown of the game with 2:20 remaining in the second quarter. Arkansas ended up with 308 yards of total offense (108 yards more than KSU) while winning the first-down battle (19-14) and converting 9-of-14 on third downs. After KSU kept the ball for 20:04 compared to Arkansas' 9:56 in first-half time of possession, the Razorbacks dominated the second half and ultimately won time of possession for all four quarters (32:16 to 27:44).
* There's a first for everything: Arkansas' victory over Kent State on Saturday was the first-ever matchup between the Football Hogs and Golden Flashes.
* Non-con excellence: Pittman-coached teams at Arkansas are now 11-1 against non-conference opponents (the lone loss was last season's 21-19 defeat against then-No. 23 Liberty on Nov. 5 at Razorback Stadium).
* Make it B2B2B 2-0 starts for Football Hogs: Arkansas has gone unbeaten through its first two games of a football season for the third consecutive year. The last time that happened was 1998-2000 under former head coach Houston Nutt.
* Another unranked opponent: For the first time in the past four seasons, the Football Hogs did not face at least one ranked opponent in their first two games of a season (then-No. 4 Georgia was the season-opening opponent in 2020, then-No. 15 Texas was the second opponent in 2021, and then-No. 23 Cincinnati was the season-opening opponent in 2022). Arkansas also entered the Kent State game unranked for a second consecutive week.
* Better but still underwhelming in the run game: Arkansas' deep corps of running backs faced a challenge on Saturday with star rusher Raheim "Rocket" Sanders (1,443 yards, 10 touchdowns, 6.5 yards per carry a season ago) sidelined due to knee swelling for what could keep him out of the lineup for a couple of games following a meaningful workload in the 56-13 season-opening win over Western Carolina in Little Rock last week (42 yards and 2 touchdowns rushing on 15 carries and 2 receptions for minus-4 yards). After only managing 105 yards on 36 carries (2.9 yards per cary) and 3 touchdowns as team last week, the Razorbacks were improved but only marginally as they tallied 172 yards on 45 carries (3.8 yards per carry) and 1 TD. Green (15 carries for 82 yards / 5.5 yards per carry and 1 reception for 7 yards) was effective on the ground beginning late in the scond quarter, and he is now the team's leading rusher through two games (total of 19 carries for 104 yards / 5.5 yards per carry). Jefferson's aforementioned 48 yards on 13 carries came mostly through designed QB keepers and proved to be effective in wearing down Kent State's run defense in the second half. Rashod Dubinion (10 carries for 34 yards and 1 touchdown) and Dominique Johnson (7 carries for 8 yards) rounded out the ground production for the team. Although the Hogs did not give up a turnover offensively, they did suffer the aforemetioned fumbled snap that Jefferson turned into a touchdwon pass. That makes three fumbles through two games on offense that Arkansas has been able to recover to maintain possession.
* Razorback receivers solid again: The passing game was not as prolific as it was a week ago, but the Hogs' receivers were effective and productive relative to a gameplan that was geared heavily toward running the football. Transfer receivers Andrew Armstrong (4 receptions, 21 yards, 2 TDs) and Isaac TeSlaa (3 receptions, 51 yards), freshman tight end Luke Hasz (3 receptions for 26 yards), and sophomore receiver Jaedon Wilson (2 receptions for 31 yards) were Jefferson's primary targets on a low-volume day for the passing game.
* Special teams standout: Arkansas sophomore punter Max Fletcher launched 3 punts for 134 yards and a 44.7-yard average. Freshman receiver / returner Isaiah Sategna had only 25 all-purpose yards (one kickoff return for 17 yards and one punt return for 8 yards) on 2 touches after racking up 111 all-purpose yards on 6 touches last week — 51 yards on 2 kick returns, 46 yards on 2 punt returns, and 14 yards on 2 receptions. Little was a perfect 4-of-4 on points-after-touchdown kicks (now 12-of-12 through two games) but has yet to attempt a field goal on the season.
* Penalty win: Although Arkansas has been penalty prone in Pittman's tenure as head coach, the team won that battle on Saturday (only 4 penalties for 34 yards compared to KSU's 5 for 39 yards).
* Pittman at Razorback Stadium: He improved to 12-7 as a head coach in Arkansas games played at Razorback Stadium in Fayetteville, which includes: a 3-1 record in home-opening games (the Razorbacks lost 37-10 to then-No. 4 Georgia in Fayetteville to start the covid-shortened 2020 season that marked Pittman's first campaign at Arkansas); a 6-1 record in non-conference home games; and a 6-6 record in SEC home games.
* How many in the house? Announced attendance for Saturday's home-opening game against Kent State at Razorback Stadium in Fayetteville was 73,173.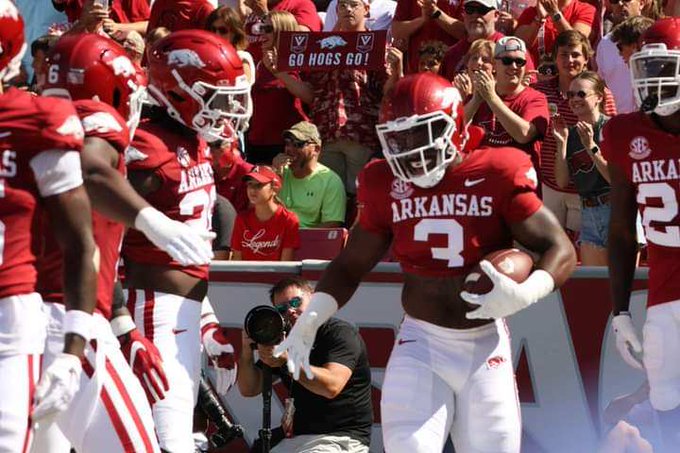 Photo by John D. James