By Kevin McPherson
LITTLE ROCK — There was a mix of good and not-so-good (mostly good, though) emerging from the 14th-ranked Arkansas Razorbacks' season-opening win over two-time defending SWAC champion Alcorn State on Monday at Bud Walton Arena in Fayetteville.
In this space we'll focus on the who's and what's in terms of improving stock after one game for the 2023-24 Hoop Hogs (1-0).
– Sophomore forward Trevon Bazile: His value was already surging in October after a brilliant Pro Day followed by a solid performance against No. 3 Purdue in an exhibition game, but Brazile's stock can now be seen as soaring given his stellar Monday. Early in the day he was one of 50 players in Division 1 selected to the preseason watch list for the prestigious postseason Naismith Trophy National Player of the Year award, and later that evening he followed that up with an efficient 13 points (4-of-5 field goals, including 1-of-2 from 3, and 4-of-4 free throws), 6 rebounds, and 1 steal to help his team to victory on opening day in college basketball. Stock: WAY UP
"We were a little conservative on the front end (bringing Brazile back to game action after a knee injury), and now he's able to play the way that he's capable of playing," Head Hog Eric Musselman said on Monday in his post-game press conference. "He's improved as a shooter. I thought athletically tonight, he rose above a lot of people. Yeah, I would say he's 100% healthy and kind of fearless the way he's jumping and rebounding in traffic."
– Junior wing Tramon Mark: After steady production and late-game heroics against Purdue cemented the idea that Mark is a day-one starter, end-of-game closer, and part-time lead-guard, he backed up the notion on Monday with 16 points (6-of-8 field goals, including 4-of-6 from 3), 3 assists, 1 rebound, and 1 steal in the win over ASU. Mark's three-point shooting to this point is a bit of a surprise and thus really stands out, and if he's going to consistently bring that threat from distance to go with his mid-range and slash-to-cash game along with his two-way jack-of-all-trades value, he's in line for his best college season yet which bodes well for the Hogs. It's clear why he's one of 20 players selected to the preseason watch list for the postseason Jerry West Award, an annual honor that goes to the nation's top shooting guard. Stock: WAY UP
"T-Mark against Purdue played a lot of point guard for us, and I didn't play him at that position tonight at all," Musselman said. "Probably slide him over there at times. In hindsight, I tried to get everybody in the game and give everybody an opportunity. I'll probably go back tonight and self-critique that I played him there in a game that was back and forth against the No. 3 team in the country and then tonight I didn't give him an opportunity to play the point. I need him to get some reps there."
– Senior guard Khalif Battle: He missed so much practice time beginning in July and running through the early parts of October — this included Arkansas' Red/White Showcase intrasquad scrimmage on Oct. 4 and the Pro Day on Oct. 11 — that is was unclear when Battle would be able to help the team. He returned to practicing on Oct. 16 and followed that up with leading-scorer production in the Hogs' two exhibition games (13.0 points) before leading the team again on Monday in the season-opener with 21 points (5-of-9 field goals, including 3-of-6 from 3, and 8-of-9 free throws) to go with 3 rebounds, 2 assists, and some tough defensive play in a sixth man role off the bench. Battle's ability to score from just about anywhere in the halfcourt, then make teams pay for fouling him and sending him to the free throw line, remind us of previous versatile Hog scorers like Dusty Hannahs, Mason Jones, and JD Notae. While it remains to be seen what Battle will contribute on a consistent basis, given his status just a few weeks ago it seems he's on a fast-track to being a key rotation player and game-closer. Stock: UP
"We're running plays for him, really explosive scorer," Musselman said of Battle, who's emerged from recent injury issues to show off his scoring prowess. "Great foul shooter. So, late games we need him to have the ball in his hands if we're in the bonus. He was phenomenal tonight. And he can rise up, he has deep range. Shoots with great confidence. He's a really good offensive player.
"I think in the last, like, 10 days KB has been so bought in. Today at shoot around he was as vocal as anybody defensively. Like, super, super vocal. I mean, I think he knows if you want to get on the floor here you've got to defend, and he's doing that. You've also got to defend with intelligence and understand when the other team is in the bonus and how to space your guy out. I think he's done a really good job of that. Some other guys have got to learn. We had two guys foul out. I mean, 2 guys, 10 fouls in 20 minutes combined. Like, you want to be aggressive but you've also got to understand how to temper that aggressive when in fact the opposing team is in the bonus."
– Senior guard Davonte "Devo" Davis: Just looking at the boxscore in the season-opener — 5 points, 5 rebounds to lead all backcourt players, a game-high 5 assists, 1 steal, and ZERO turnovers — it was clear Davis had a positive impact that served as a reminder of his ability to man multiple positions, something that could warrant a longer look at him playing on the ball in lead-guard scenarios. Davis is the Joker in Musselman's deck because there are so many different ways he can impact both tangible and intangible aspects of the game that promote winning. Stock: UP
"(Devo) had five, five and five," Musselman said. "So I thought across the board, he played really well. Made some great passes. The most important thing is Devo didn't have a turnover. I thought our point guard play — we got to take better care of the ball, for sure. Maybe Devo slides over there and plays a little bit more point guard. We'll go back and watch the film and discuss that."
– Senior forward / center Jalen Graham: All the preseason practice reports suggested Graham had made enough strides — the kind that caught Musselman's attention in a positive way — that would lead to a no-doubt rotation role. But then came issues dealing with back spasms that took Graham off the practice floor in early October and kept him out of both exhibition games. The team's regular-season debut was Graham's debut, too, in terms of matching up against somebody other than a teammate at practice, and he responded better than any of the frontliners not named Trevon Brazile by contributing 8 points (4-of-5 field goals and 0-of-2 free throws) and a team-high 8 rebounds in only 14 minutes. He was aggressive and effective in more than just showing interest as a scorer. Paying attention to detail, buying in on defense, and executing the game plan are pivotal for all players, but for a veteran like Graham in his final college season it will be important to check those boxes consistently when given opportunities. He made quite a first-game opening salvo to get a foothold on a Top 8 rotation role. Stock: UP
"I thought (Graham) was great," Musselman said. "He rebounded the ball with some physicality, kind of grab and go. He got a defensive rebound and pushed it with some good pace. I thought he played really good. I mean, we're not going to play 13 guys in a half. That's just not — and guys are playing their ways into rotations and guys are playing their ways out, that's just kind of how it happens. But we'll probably shorten the rotation. When that is, I don't know. The game will dictate it. But we've got a lot of areas that we have to get better at for sure."
– Three-point shooting and ball movement: After starting 1-of-6 shooting from 3, the Razorbacks made 11 of their final 24 attempts from distance to finish 12-of-30 beyond the arc (40.0%). Overall, Arkansas shot 28-of-54 from the field (51.9%) and the team made 25-of-37 at the foul line (67.6%). The Hogs had 20 assists on their 28 made field goals, and the team made 238 passes on the offensive end of the floor to easily surpass Musselman's preference of his offense making at least 200 passes per game. Compared to the visiting Braves (3-of-9 from 3 for 33.3%) the Hogs were better from 3 in every way imaginable (volume of makes and takes and efficiency), and the brisk and effective ball movement led to a 20-7 blowout in the assist comparison. Seven different Hogs made at least one triple, and the 12 makes as a team would have been a season high-water mark a year ago. It means so far so good in a significant way considering the program ranked near the bottom of D1 in three-point shooting spanning the last two seasons. Stock: WAY UP
"It was really important that I didn't keep hearing about it from you guys (media) and everybody else about our shooting," Musselman said when asked about his team's apparent improvement beyond the arc. "We tried to address it. I think we addressed it, but only time will tell."
– Glass work: After getting worked over on the offensive boards by Purdue on Oct. 28 — 14-1 that fed the Boilermakers' 17-0 shutout in second-chance-points — the Razorbacks bounced back against an ASU team that ranked 37th in D1 last year (12.0 offensive rebounds per game in '22-23) by doubling up the Braves (14-7) in offensive rebounds as part of winning the overall boards (44-26). It's still too soon to know how good Arkansas will be on the glass, but for one game the Razorbacks were able to course-correct. Stock: UP
"I thought certain guys did a great job on the offensive glass," Musselman said. "(Jeremiah) Davenport, (Jalen) Graham, those two guys in particular, you know Devo (Davis), those guys did a good job keeping balls alive and rebounding through the corners to get to the elbow for long rebounds. And we have to get better at the point guard position getting defensive rebounds. El (Ellis), you know 23 minutes, I mean, we've historically been a great point guard rebounding team. Tonight, El's 23 minutes, Layden (Blocker)'s 10, we didn't have a defensive rebound and we have to — we need our guards to go back there and help on the glass, so those are areas for us to get better at for sure."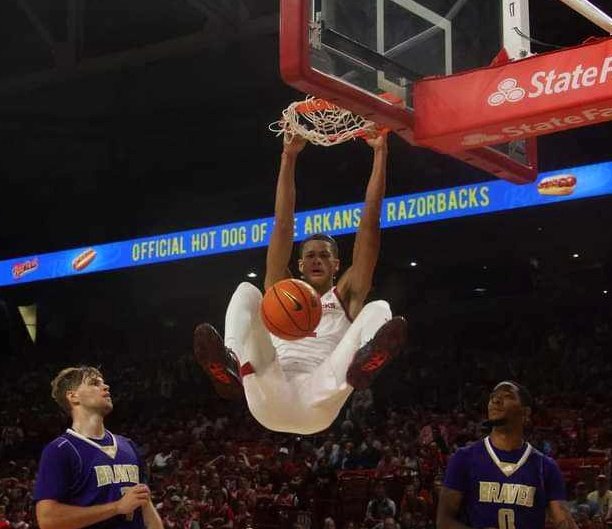 Photo by Hogville's John D. James