The NCAA tournament bracket was bending, breaking, busted. It was open season on No. 1 seeds: Purdue had gone down Friday night; Kansas was laid low Saturday evening. And while Arkansas was completing that upset of the Jayhawks, a third No. 1, Houston, was staggering.
Playing in a lamentable road atmosphere here—something that should never happen to a No. 1 seed in the second round—the Cougars were trailing Auburn by 10 points at halftime. Standout guards Marcus Sasser and Jamal Shead were playing through injuries (a groin strain for Sasser, a hyperextended knee for Shead) and navigating foul trouble. It looked like the Sweet 16 would be contested with no more than a single No. 1 seed.
What happened for the next 20 minutes restored some order to the chaos. It also showed why Houston has legitimate hope that it can end its angst-tinged, oh-for-forever NCAA tournament drought. The Cougars opened a can on Auburn, smashing the Tigers 50–23 in the second half to win by a comfortable, 81–64 margin.
"These are the moments that define programs," coach Kelvin Sampson says. "You have to step up in these moments."
Backed into a corner, they counterpunched with depth, experience, defensive tenacity and a fierce survive-and-advance instinct. "We're not backing off for nobody," says forward J'Wan Roberts.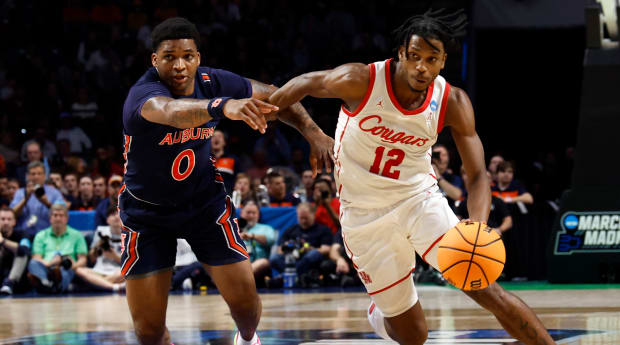 After quickly closing the 10-point deficit in the second half, Houston faced a final crisis. All-American guard Sasser picked up his fourth foul with 10:52 left, and team leader Shead got his fourth two-and-a-half minutes later. With both watching from the bench, here came Tramon Mark to the rescue.
"I had courtside seats to the Tramon Mark Show," says Shead. "It was amazing watching him take over out there."
He's Houston's fifth-leading scorer, averaging 9.6 points per game, and he took over with the season on the line. Mark scored a career-high 26 points and tied his rebounding career high with nine. He put on a display of iso artistry.
Coach Kelvin Sampson spread the floor, shooed his big men away from pick-and-roll sets at the top of the key, sent them to the baseline and let his best one-on-one scorer take over. The lean lefty carved up Auburn possession by possession. Bobbing and bouncing off the dribble, darting and feinting, he kept getting into the paint and shooting over the Tigers or getting fouled. With body control, shooting touch and an unerring sense for reading the floor, Mark made his mark on March Madness.
"I just realized that I could get anything I wanted in those iso's," Mark says. "So I just continued to go."
He scored 16 of Houston's 20 points as the Cougars surged from three down to 10 up in a span of six minutes. That, combined with Auburn's ineptitude at the foul line (19 of 36), silenced the blue-and-orange crowd in Legacy Arena. At the same time, Houston's defense was performing its usual search-and-destroy mission, forcing 20 misses in 24 second-half field goal attempts. Roberts and freshman Jarace Walker combined for 11 blocked shots, keeping Auburn drivers from finishing at the basket. Houston steadily pulled away, putting that first-half crisis in the rearview mirror.
"In the second half, I don't think we were as prepared for how aggressive they would be," Auburn coach Bruce Pearl says.
This outcome slowed a prodigious Saturday roll by the Southeastern Conference. First Tennessee beat Duke handily as a 3.5-point underdog. Then Arkansas pulled the shocker over Kansas. With Auburn racing to that double-digit lead and Alabama a virtual lock to end the night, people barely noticed Missouri's miserable flameout against No. 15 seed Princeton.
If the SEC put four teams in the Sweet Sixteen before Kentucky even had a chance to get there Sunday, that would have been one of the better men's basketball days in the history of America's foremost football conference. Instead, three of them got there—still a very good result for the league, but Houston was having none of the Auburn upset bid.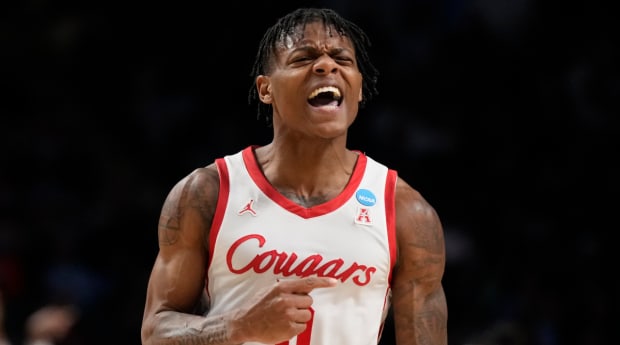 Sampson now has guided the Cougars to four straight Sweet Sixteens, an elite benchmark. The only team with a current longer streak of Sweet Sixteens is Gonzaga, which has been to seven straight heading into the Zags' second-round game Sunday against TCU.
And you have to go deep into the Houston record book to find the last time this program has matched the current run. The Phi Slama Jams teams of the 1980s didn't do it, making three straight. Last time Houston made four in a row was 1965-68, when Elvin Hayes was putting the program on the map.
With each progressive step, the dream of reaching a hometown Final Four comes more into focus. The confluence of circumstances are a bit overwhelming, which is why Houston has tried to keep its eyes on what's immediately in front of it. But the hoopla is building. Houston alum Jim Nantz, the legendary CBS broadcaster who is working his last Final Four, has called both the Cougars' games here and was circulating in the locker room afterward.
Simply getting past this round felt like a bit of a liberating experience for the Cougars. They won a de facto road game. They got Sasser back in high-performance mode and Shead overcame his knee issue—both will have a few days to rest before the next challenge.
It was dicey for 20 minutes Saturday, but Houston regrouped in powerful fashion. Now it's on to Kansas City.
"We ain't want to go home," Sasser says. "We want this season to go on as long as possible."